Staff member
Administrator
Joined

Aug 18, 2002
Messages

1,920
I've just added a new
Garage
feature to the site. I'm pretty excited about it and think it can be a really powerful tool for members once everyone starts entering their cars.
The Garage is similar to a photo gallery, but much more detailed. It's also a database that contains all the specifics of your car(s) and can be easily searched by other members. For example you can search for all 390 cars... or all Highland Green cars... or all 390 cars that are Highland Green with Black interiors. The search lets you get a general or specific as you like.
One of the best parts is how well it ties in to the forums. While viewing any of your posts other members can simply click on "My Garage" under your username and see a quick thumbnail of all your cars. Clicking in the thumbnail brings up the Garage page for that car with all the details. (See mine to the left as an example)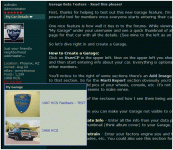 So let's dive right in and create a Garage.
How to Create a Garage:
Click on
UserCP
in the upper left. Now on the upper left you should see
Add 68 GT/CS & HCS Garage
. Click that to begin and then start entering info about your car. Everything is optional, but the more you enter the more useful the tool for other members.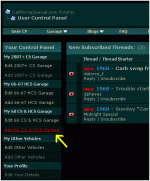 You'll notice to the right of some sections there are some
Add Image
boxes. The idea is you would add images related to that section. So for the
Documentation
section you would add a scan of your Marti report, window sticker, etc. In the
Factory Options
section you might add pics of your wheels, console, etc.
Please Note: People have been reporting trouble uploading large images. The images should be 1200 pixels max to upload properly. (They get sized down to 900 by the software anyway). So if you have photos directly from a digital camera they are probably too large. You'll need to downsize them first before uploading to your Garage. Click here for resizing instructions.
Here's a breakdown of the sections and how I see them being used:
Settings
- Here you can make your Garage not visible to others; in case you were still working on it.
VIN & Data Plate Info
- Enter all the info from your data plate. The single photo in this section is what will show as the thumbnail (think album cover) to your Garage.
Engine & Drivetrain
- Enter your factory engine size and then use the "Notes or Mods" field to describe any changes, upgrades, etc. You could also use this section for other drivetrain upgrades like transmissions, axles, etc.
Marti Report & Build Sheet
- Check off the boxes if you have a Marti report, Build Sheet and/or Window Sticker. Obviously if you check the box it's very helpful to also include a scan of the documentation.
Photos & Notes
- This is the catch all section and where most of your photos will go. Text can be anything really, including your car's history, how you bought it, restoration stories, etc.
Factory Options
- These are the factory options as listed on your Marti report. Other options you've added after the fact should probably go in the Photos & Notes section directly above this one. The idea is to list only factory options so other can use that data for comparison & research.​
How to Search the Garages:
Click on the
Garage
link in the top navigation bar. A drop down menu will appear with several ways to view the Garage.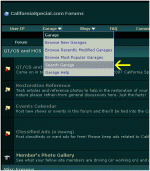 The first think you need to do then is pick the type of car you're looking for. If you select "68 CS & HCS Garage" you'll then be presented with all the search options specific to those cars. Chose your search criteria and then click the "Search" button at the bottom.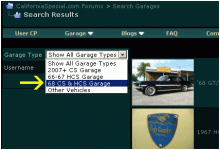 That's pretty much it. If you have any questions or comments please let me know. Thanks!
Last edited: